Looped Cable Hangers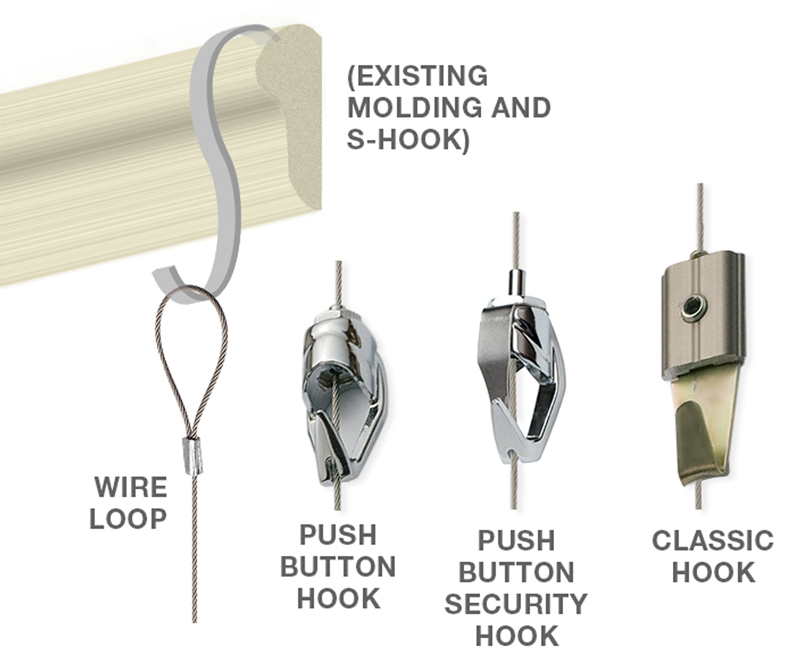 A system for use in areas already equipped with picture rails and S-hooks, or with installed wall hooks — it gives you instant access to the strength and flexibility of the Gallery Stainless Steel Cable System. The sleek stainless steel looped cable attaches to your existing mounting, and your choice of hook slides easily up and down for quick vertical adjustment.
Cables are thin — just 1.2mm — yet capable of supporting up to 88 pounds (when used in pairs — 44 pounds per cable hanger)
Hangs on any picture rail hook or wall hook
Quick and easy to hang or re-hang on adjustable picture hooks
Classic Hook locks with the simple wrench provided
Push-Button Hook offers instant tool-free adjustment; Security Hook resists tampering and theft
Hanging Capacities:
 

44 pounds using a single hook
88 pounds using two cables and two hooks
Multiple pictures may be hung on one cable; 66 pounds maximum per cable
You can place your order for individual parts below, or use our order form to choose a complete system. Get personal assistance at 800-460-8703, or use our simple Contact Form.