Original Gallery System: What to Order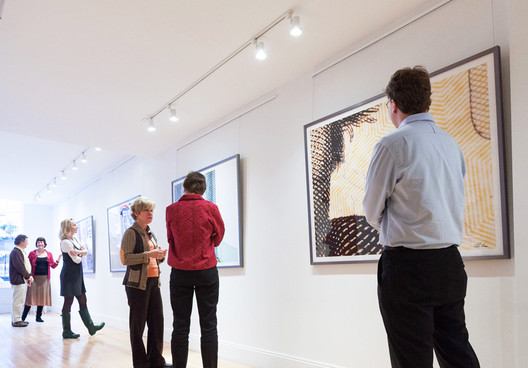 Here are some general ordering guidelines based on our experience selling many thousands of picture hanging systems. We can often save you money and/or time with a brief phone conversation, and are happy to provide free samples of our equipment, so feel free to give us a call (800-460-8703) to discuss your specific installation. Or, use our simple Contact Form.
Steel Cable or Clear Tape? Steel Cable systems work well in all situations, and are particularly effective against dark-colored and wallpapered walls. They can be used with all three of our hook types. Translucent Clear Tape, which uses our economical Classic Hook, is a good alternative, especially against white or light-colored walls.
How many tracks will I need? Tracks come in 6.5-foot lengths, and are easily cut to any size. Running them across the full width of your hanging area can create a clean, seamless look, and maintain a continuous line when "turning a corner" onto adjacent walls - divide the overall length in feet by 6.5 and round up to determine the required number of tracks. You can also mount separate shorter sections of track, using end caps for a finished look. 
How many hangers and hooks? A good starting point is one 10-pack of hangers and one 10-pack of hooks for every four lengths (26 feet) of track, but consider the number, size and weight of pieces you will be hanging, as well as how they will be arranged. Smaller pieces can be hung on a single hanger with a single hook, or you can create vertical columns with several hooks on one hanger (observe weight limits below). Heavier and/or larger pieces (more than about 24 inches wide), and columns of differently sized or shaped pieces may need to use two hooks and hangers for secure, even hanging.
Which hooks? Clear Tape systems require Classic Hooks (which adjust using the provided hex wrench). Steel Cable systems can use Classic Hooks, Pushbutton Hooks (for instant, tool-free adjustment) or Security Pushbutton Hooks (for a measure of protection against theft or earthquake). See how easy it is to adjust the Pushbutton hook in this video:
Consider your lighting needs. Artworks must be seen to be appreciated. You can review our discreet, gallery-quality lighting option here; please call for more information.
When evaluating any hanging system, look for compact, inconspicuous components that operate smoothly, lock securely and have uniform finishes and smooth edges. Insist on gallery-grade equipment that will last -- all Gallery System hardware is covered by our lifetime limited warranty.
Important Hanging Capacities
Original Gallery System - Stainless Steel Cable
44 pounds using a single hook
88 pounds using two cables and two hooks
Multiple pictures may be hung on one cable; 66 pounds maximum per cable
Original Gallery System - Clear Tape
33 pounds using a single hook
66 pounds using two tapes and two hooks
Multiple pictures may be hung on one tape; 33 pounds maximum per tape