Hanging Systems Help Galleries Focus on the Show
Simplify the logistics of hanging your exhibition, and get more time to spend on the aesthetics
Directors of successful art galleries always have the planning and launching of their next big show in mind. That's why more and more galleries are taking advantage of art gallery hanging systems: they help keep the focus on the business of showcasing featured artwork, by simplifying the hanging process and eliminating many maintenance tasks.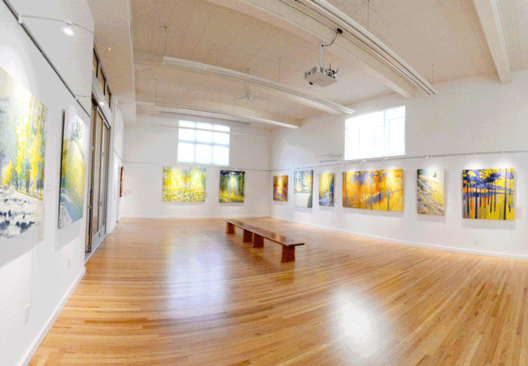 Gallery System "Lets the Art Speak For Itself"
"We're really happy with our new Gallery System – it's easy to adjust for different- sized artworks in a variety of media, and it gives our gallery a professional, contemporary look. It lets the art speak for itself."
Dr. Elizabeth Peña, Director, Doug Adams Gallery, Center for the Arts & Religion, Graduate Theological Union, Berkeley, CA
Learn more about the Original Gallery System art hanging system with lighting option used by Doug Adams Gallery
Changeovers Made Easy
Art gallery hanging systems allow artworks to be easily positioned and rearranged - it's effortless to move pieces around the gallery until the display matches your vision. Small, subtle adjustments can be made instantly with the touch of a pushbutton hook, for precise alignment and perfect groupings.
Choose the right Gallery System for your gallery - Call us at 1-800-460-8703, email info@gallerysystem.com, or use our simple Contact Form.
Gallery System Art Displays in action at Casa Wynwood, Miami
"We hang a new show about once a month, and can easily take down 25 pieces and put up 25 new ones in less than half a day. The artists love how fast it is, and that they can have so much control over the hanging process. And the walls remain perfect at all times."
Christi Tasker, co-proprietor, Casa Wynwood, Miami FL
Learn more about how Casa Wynwood uses their art hanging system
Put Away the Hammer, Nails, and Spackle
When the hammer and nails stay on the shelf, the worry and fuss go out of exhibition setup – and when the show is over, the spackle, sandpaper and paint stay on the shelf, too. So you and your team can keep all your attention on perfecting the art of the display. No wall damage, no cringing, just beautifully displayed artwork that keeps your gallery focused on the business of the show.
The Gallery System is paying for itself
"The Gallery System is paying for itself with the hours we save…and it gives me more flexibility in hanging our shows, and a little more creativity, too." Gary Tucker, Gallery Director, Kaji Aso Studio
Learn more about the GalleryOne art hanging system used at Kaji Aso Studio Gallery
Flexible and Cost-Effective
Whether they use our Original Gallery or GalleryOne art hanging system, galleries say they're saving both time and money, allowing them the freedom to spend more time on promoting their shows, working with artists, and cultivating potential new clients.
No more holes in my gallery walls!
"It's fast, flexible, easy to use and in a word: fantastic! No more holes in my gallery walls! I recommend it without hesitation."
Marilyn Swift, Marilyn Swift Studio, Gloucester, MA