Gallery System Supports Opening Minds through Art
Image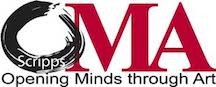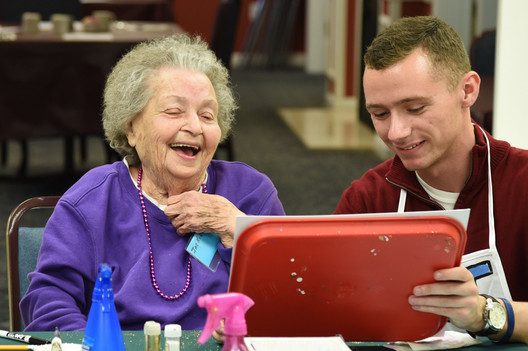 We're backing this innovative program because of its proven ability to help improve the lives of people with dementia through creative expression
While Gallery System's business is focused on helping people create better art displays with art hanging systems, we also have a commitment to supporting arts-oriented organizations that improve peoples' lives.
In the tradition of our ArtsUp Award, which ran from 2013 to 2016 and provided grants of art hanging equipment to 15 community arts organizations, we're proud to announce our backing of Opening Minds through Art (OMA), an innovative program that enables people living with dementia to express themselves visually.
Launched in 2007 by Dr. Elizabeth Lokon of Miami University's Scripps Gerontology Center, OMA has been taken up at over 70 facilities across the US and Canada, won numerous awards, and enhanced the lives of thousands of program participants and their families.
Impressive Results, Peer-Reviewed Research
Gallery System discovered OMA through a customer, the Jewish Home Family organization in New Jersey, which offers the program at its three facilities. The results there were impressive, and led us to learn more about the OMA program's broader efforts and its record of publishing peer-reviewed results.
Dementia affects an estimated 5 million people in the US; it takes away not just memory and cognitive skills, but also people's ability to convey feelings and perspective. OMA has shown, through both research and personal success stories, that its art-making programs can provide new avenues of self-expression, while enhancing participants' connection with families and caregivers and improving their sense of well-being.
"We're enthusiastic supporters and want to help OMA keep growing," said Ron Orner, president of Gallery System Art Displays.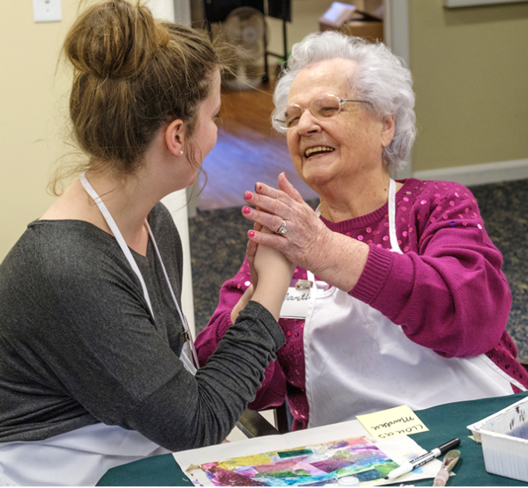 OMA participants are paired with a trained volunteer, often a college student, for weekly studio sessions, at which a leader shows artworks (sometimes by noted abstract artists) as inspiration. Art supplies and a step-by-step process sheet are distributed, and the volunteers provide support for visual exploration and experimentation, but all creative decisions are up to the participants. As Lokon has stated, people living with dementia often have virtually all decisions made for them; "this is the one hour when they get to decide everything on their own."
Helping a Unique Self Come Through
Many of the works are impressively good – pieces by Jewish Home Family residents were shown in a local café's gallery space and will be featured in a special exhibition at an area art museum in 2018. And organizations often hold shows of their own, making the openings a special event for families and friends of OMA participants, as well as volunteers.
As Lokon puts it, "It is so important to respectfully display artwork created by people with dementia in the community because this is how we educate the public about their creativity. There is still a unique Self in each one of them that comes through in their artwork. People with dementia can develop new identities, as artists, thanks to the recognition we give them through exhibitions of their artwork."