Choose the Right Fasteners When Installing Your Gallery System
Image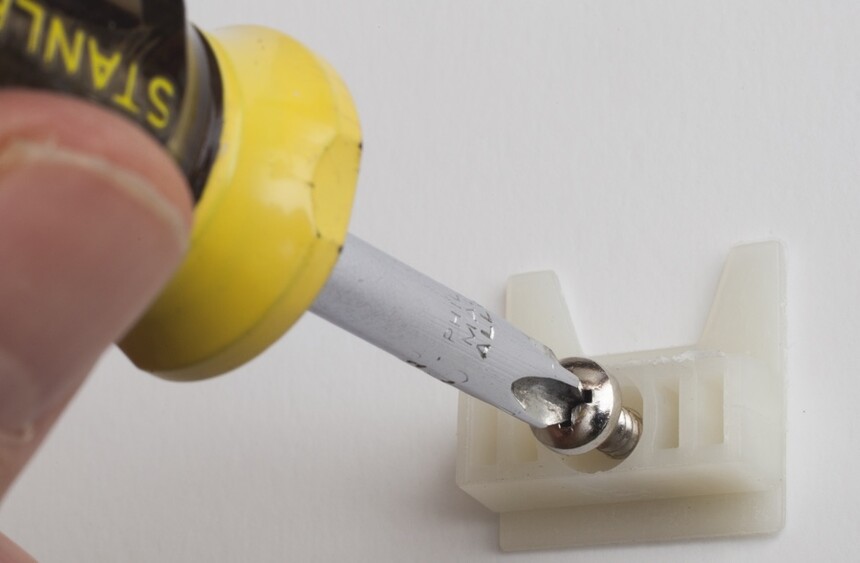 When installing any picture hanging system, one of the most important steps is securely affixing the tracks to your wall, so they can support artworks up to the weight limits of your hangers and hooks. And one of the most important parts of that process is selecting the right fasteners for your specific installation.
Because installations vary so much, Gallery System doesn't include fasteners with our gallery hanging system products; this helps minimize everyone's cost, reduces waste, and ensures that you get the right type. They're readily available at your local hardware or home store, or online from a variety of sources.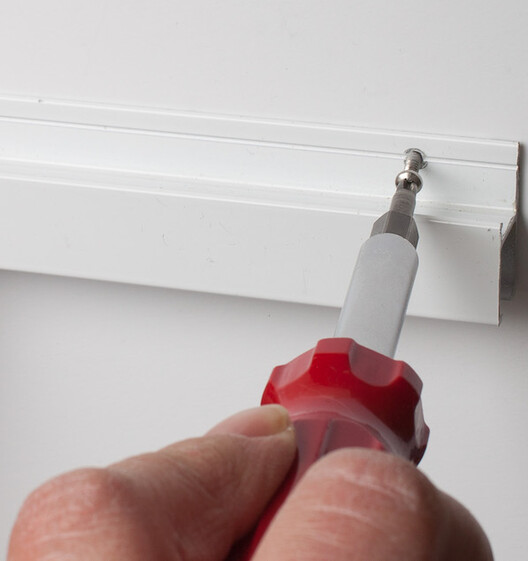 Although our two gallery hanging systems (Original Gallery System and GalleryOne) use slightly different mounting techniques as seen in figures 1 and 2, the basic principles are the same, so we'll review them together. Whichever one you're installing you'll first want to ascertain:
• What material is your wall made of? I.E., drywall/wallboard, plaster, brick, concrete, etc.
• If it's a stud wall, like most drywall and plaster walls, what are the studs made of (generally wood or metal), and where are they located?
An electronic stud finder can be helpful determining location; studs are not always located on the standard 16-inch centers, especially in older buildings and homes.
It's not unusual to need multiple types of fastener for a given installation, so it's a good idea to do a detailed assessment and plan before going shopping. For planning purposes, keep the following in mind:
• For Original Gallery System picture hanging system installations, each full 78-inch section of Original Gallery System track should be supported by five fasteners; shorter sections should have one fastener every 16-18 inches.
• For GalleryOne installations, each full 54-inch section of GalleryOne track (and cut sections greater than 36 inches long) should be supported by four wall mounts, one at each end and two evenly spaced in the middle. Sections shorter than 36 inches can use a mount at each end plus one in the middle, and the middle mount is not needed on sections less than 18 inches long.
With that information, you can choose the right hardware for your wall material(s).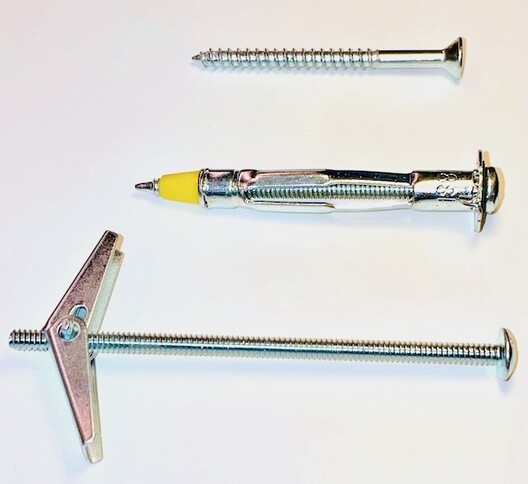 If your drywall or plaster wall has wood studs behind it, you can use one of the simplest mounting methods: #8 wood screws (at top of Figure 3) driven securely into the studs. Be sure to select screws that are long enough to extend at least 1-1/2 inches (3.5-4 cm) into the stud after passing through the Original Gallery System art hanging track (which is about 1/16 inch thick) or GalleryOne wall mount (which adds about ¼ inch) and the wall material. For common ½ or 5/8-inch drywall/wallboard walls, a 2.5 or 3-inch fastener will suffice; plaster walls are often thicker, and may require more length.
You may find that you need to affix track at points where no stud is available; in this case, use expanding wall anchors, also known as molly bolts (in middle of Figure 3), or 1/8-inch toggle bolts (at bottom of Figure 3).
If your wall has metal studs, you will need to use expanding wall anchors (molly bolts) or 1/8-inch toggle bolts in all locations.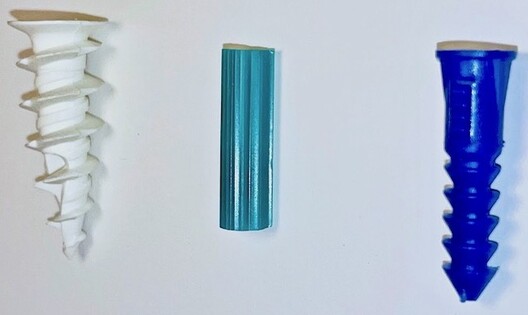 Whatever your situation, please do NOT use light-duty fasteners, like the plastic wall anchors shown in Figure 4, as they do not have adequate strength for art gallery hanging system applications.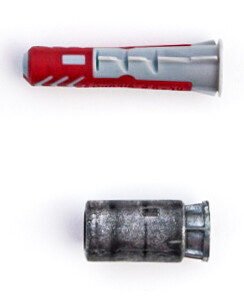 On brick, concrete, or masonry walls, use #8 or 1/8-inch fasteners in combination with compatible medium-duty or heavy-duty anchoring hardware. Look for working load capacity of 100 pounds or more.
The nylon wall anchors shown at the top of Figure 5 are a versatile choice that can accommodate machine screws and wood screws, while providing good strength in concrete, block, or brick walls.
Another option is machine screw anchors, at bottom in Figure 5. These are made of lead and often require use of a special setting tool; they can be used in concrete or block walls.
Carefully follow the fastener manufacturer's instructions to ensure robust attachment of your art hanging system.
If your situation is not covered here, or if you have questions about your installation, please contact our experienced customer service team by calling 800-460-8703, emailing info@gallerysystem.com, or using our handy website contact form.