Painting Gallery System Wall Tracks: Getting Best Results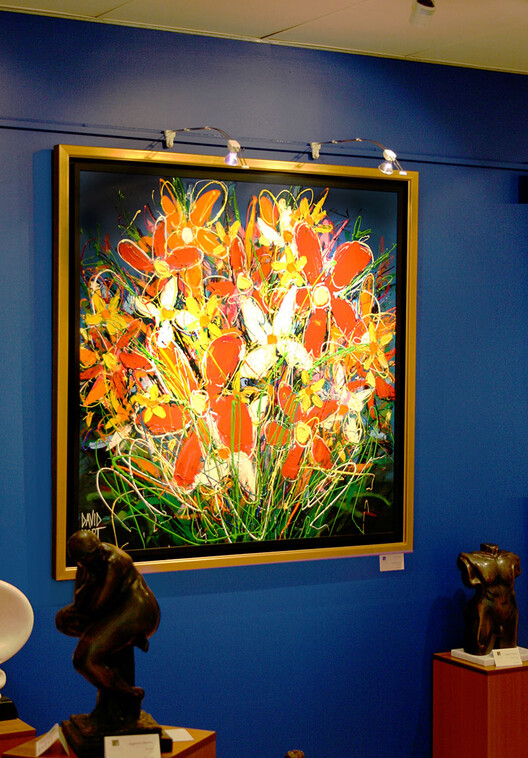 Many Gallery System customers paint their wall tracks to match the surrounding walls or woodwork. It's a simple and effective process that helps minimize the visibility of your art hanging system; here are a few tips to help you achieve the best results.
First, if you plan to paint your tracks, choose the anodized aluminum finish rather than pre-painted white. The bare aluminum will, when properly prepared, provide reliable results on both color and surface sheen (gloss, semi-gloss, flat, etc.).
Any high-quality latex paint should work well for the finish coats; you can generally use whatever paint is on the walls or trim of the room(s) you're installing in. 
You will also need a primer that is specified for use on aluminum — this is important for achieving best results, so be sure to check the manufacturer's specifications, as not all primers are suitable. Some compatible products are Sherwin-Williams Multi-Purpose Interior/Exterior Latex Primer/Sealer, Benjamin Moore High-Hiding All Purpose Primer, and Behr Kitchen, Bath & Trim Stain-Blocking Primer & Sealer.
Next, plan your installation according to the instructions for your system [LINK TO: https://www.gallerysystem.com/install-gallery-hanging-system], and (if necessary) cut all tracks to the appropriate size for your room using a hand or power saw with metal-cutting blade. You can smooth the cut surfaces with fine emery paper or steel wool as needed.
At this point, decide whether you will paint your tracks before installation or after they have been mounted on the wall. While either approach will work, painting before installation is generally more convenient and gives the best results, and also makes it easier to unmount the tracks from the wall should this become necessary at a later date.
If you do paint before installing, drill all mounting holes (for Original Gallery System tracks) or attach the wall mounts to the wall (for GalleryOne tracks) BEFORE you start the painting process. This will prevent damage to the paint during the mounting process.
Before applying any primer or paint, make sure the tracks are clean and dry. A quick wipe with a bit of isopropyl (rubbing) alcohol on a rag or paper towel can clear away fingerprints, oil, etc.; be sure there's no remaining residue.
Now you're ready to apply the primer according to the manufacturer's directions. In this and subsequent steps, avoid getting paint into the channel on the underside of the track where the hangers will sit — this will ensure they can slide freely and not spoil the clean edge of your paint job.
When the primer is fully dry and ready for re-coating, apply the desired finish paint, again following the manufacturer's directions. A single coat may be enough, but a second coat often provides a better-looking and more durable finish.
After allowing ample time for the paint to dry and cure, you're ready to mount the tracks or start using your system!
As always, we're happy to answer any questions that might come up — call us at 800-460-8703, email info@gallerysystem.com, or use our Contact Form.