A Landscape Artist's Great Exhibitions Start at Home
Image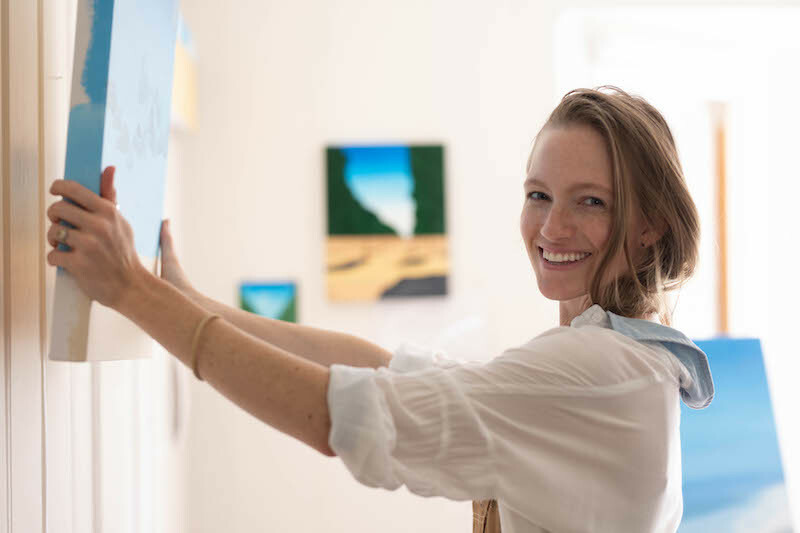 Landscape artist Haley Coleman creates dramatic, evocative paintings of California's Central Valley, including the area's natural terrain and agricultural enterprises like the one she and her husband run together.
Coleman installed an Original Gallery System art hanging system in her home and has found it to be a useful tool in preparing for public exhibitions of her work. We invited her to share some of her methods, and insights into how artists can ensure that their art is displayed to best effect for each exhibition's audience.
When a new exhibition opportunity comes along, how do you decide what you want it to look like? What factors do you keep in mind as you envision the viewing experience you want your work to create?
I paint California landscapes, primarily agricultural landscapes, and what really brings them to life is dimension, color, and perspective. These three factors are what I want the viewer to experience - big canvases, bold colors, and large looming shadows. When all three come together, it makes for an exceptional viewing experience.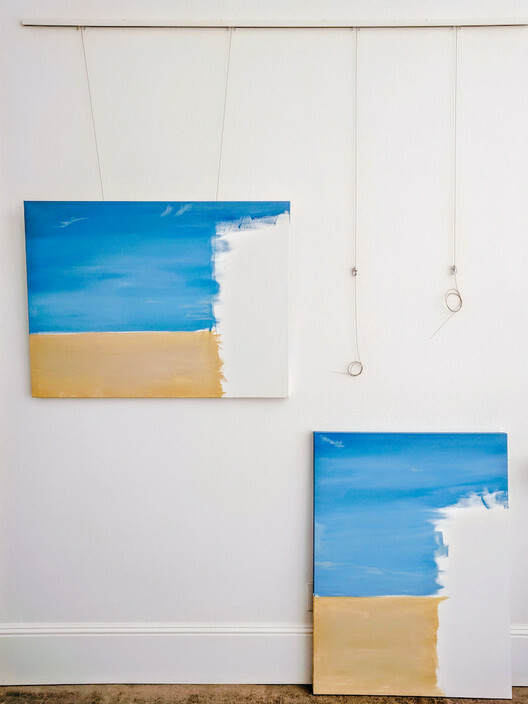 Of course, every exhibition opportunity has its own audience, venue, and theme, and keeping them in mind helps strengthen the message I want to convey. Anticipating the nature of a particular audience gives me a competitive edge, and I like to walk the venue and take notes long before an exhibit, when there's ample time to prepare, to help build my vision. Having a theme that I am passionate about makes for an amazing and satisfying experience as an artist.  Considering each of these factors allows me to envision and create the ideal viewing experience.  
You've mentioned using your home art display capabilities to experiment with arrangements for shows. How do you do that, and how do you assess possible combinations?
Being able to display my art using a hanging system in my own home has been a game changer.  On one wall I hang one or two finished pieces. On the other I hang works in progress. I find that living with a work in progress helps the progression. If a detail of a painting just isn't sitting right with me in the studio, I'll hang it in my home where I can look at it throughout the day; sometimes on the fifth walk-past I see what's missing, and it clicks!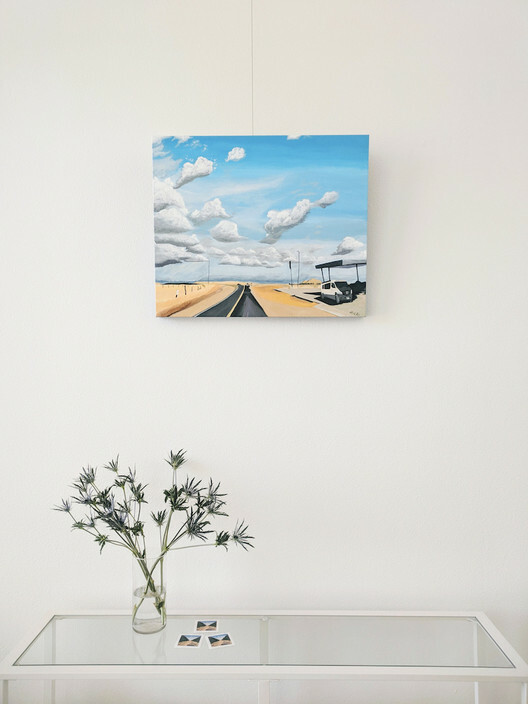 Are there any hanging tactics you especially like to take advantage of? Like, gallery-style (linear) vs. salon-style, ways of focusing attention on works you think are especially important, etc.
I prefer linear arrangements over salon-style. I find linear displays to be clean and appealing, especially when an artist has a distinct style. Having less on a wall makes a greater impact, and there is a smooth rhythm and confident balance to a linear exhibition that I crave. Of course, that means sequencing is important, and trying out arrangements on the wall is very helpful – the hanging system simplifies that.
The bottom line is that, as a landscape painter, I strive to give each piece a unique and special perspective, and I want to make it easy for the viewer to decide which piece speaks to them. 
Any pieces of advice for other artists who want their exhibitions to be as strong as possible?
Create what makes you happy while considering key factors that will strengthen the message you want your art to convey.  Being business-minded and forward-thinking has helped advance my art career and achieve personal goals.