Six Steps to Attractive Art Displays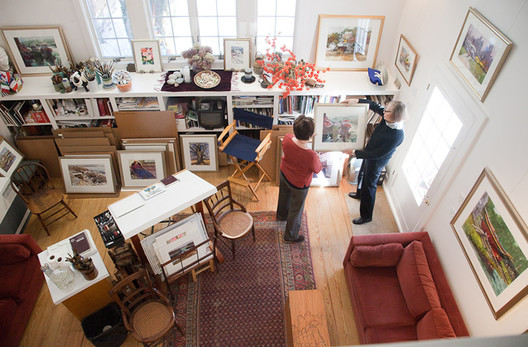 Learn how to hang art effectively with simple, easy to follow advice from art hanging professional Marilyn Swift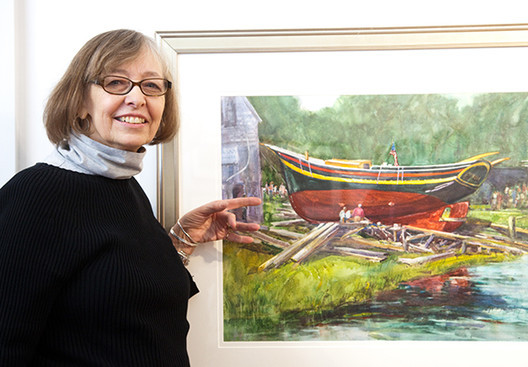 What's the secret to using art to make an office or home – or a government building, hospital, or library - more interesting, welcoming, and productive? Display it well, and the artwork will do the rest.
We talked to Marilyn Swift, a painter and longtime gallery owner in Gloucester, Mass., about making good visual decisions, and creating engaging displays. She notes that personal taste and individual situations are extremely varied, so there aren't any true rules. But you can apply your own taste and visual intelligence in a methodical way, and get good results, with these six steps:
Choose the right height. Create an imaginary horizontal line for consistent vertical placement of the works, at a viewer-friendly height.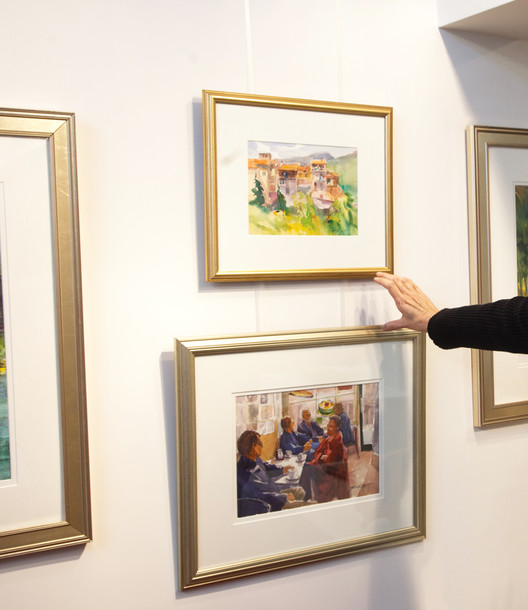 Large items will be hung so that this line divides them in half across their midsection. Smaller items can be "double hung" in two rows, above and below, with the centerline halfway between.
"Many people tend to hang their work too high, especially if it's in a room where people will be sitting when they look at it," notes Swift. "Probably a good rule of thumb is to start at around 54 inches off the ground, and adjust from there." Among the factors to consider: Will people be standing or sitting? Are there low sofas or high stools? How high are the ceilings? Who will be using the space – children? Seniors? Basketball players?
Edit. Decide how much will really fit on the wall or walls you're working with. It's easy to overcrowd, which can be visually overwhelming, and detracts from each individual piece. The two-row technique can be useful for putting more pieces on a wall, especially if they are smaller in size; it can also work to put a smaller piece over a larger one.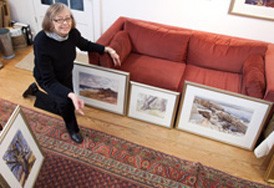 Experiment and Observe. To find the right arrangement, lay the works out along the floor at the foot of the wall, and try different combinations. "They shouldn't fight," is how Swift puts it. "You need to step back and look, and constantly readjust with a fresh eye that you only get from a distance. A wall can be too chaotic, or it can be too quiet. If the lines are all similar, you might need something to jazz it up." Another hint: don't fill an entire wall with works that are the same size with the same frame – "you start to only see the frames," cautions Swift.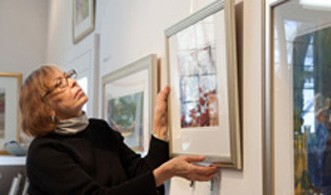 Adjust. Try different spacing to give the works room to breathe. Proper spacing depends on many factors, including the size of the work, and how it is framed. "If you have watercolors with a four-inch matte around them – maybe they can hang just six inches apart, because you have that space plus the matte," explains Swift. "If you're hanging things in ornate frames, they may need more space."
Wait.  "If you're not strapped for time, come in the next day with a fresh eye, and often you can see where you need to make adjustments before you commit," says Swift
Hang!  After going through this process, you can plot the exact locations for the pieces in your display and hang with confidence. Swift notes, however, that the desire to tweak is virtually universal, and that the use of a wall-mounted hanging system rather than nails in the wall can be a huge help, and a great way to take stress out of the hanging process.
"It's a lifesaver – when you want to make an adjustment, you just slide the cables from side to side, or move the hooks up and down on the cables," notes Swift. There's no worry about having to put nails in at exactly the right spot, and it also makes it much easier to hang pictures above or below one another – "it's a clean look, because they hang from the same cable and automatically line up."