Place Your Order: Original Gallery System Clear Tape
Want the fastest route to a complete picture hanging system? Shop our Clear Tape kits
Or, build a custom system — just scroll down and choose:
Wall track, in paintable anodized aluminum or white
Hangers, sold in packs of 10
Classic Hooks, adjust with included wrench
Add optional wood molding, end caps, or the integrated Gallery Lighting System.
Need more information before choosing? Learn about Art Hanging Systems
Wall Tracks
Divide length of hanging area by track length for number of tracks to order. Tracks are easily cut to any size.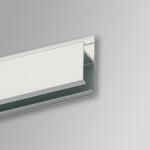 Track, Original Gallery System, Anodized, 6.5 foot
Original Gallery System wall track, 6.5-foot (2-meter) length, paintable anodized aluminum finish (also available in pre-painted white finish). Track cuts easily to any desired length. Compatible with Gallery System Lighting. Optional wood molding cover can be painted or stained for more traditional look (wood molding and lighting cannot be used simultaneously). Note: because installations vary, mounting hardware is not included.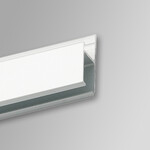 Track, Original Gallery System, White, 6.5 foot
As above, in pre-painted white enamel finish.
Hangers
Typical installations require 10 hangers per 20-30 feet of hanging area.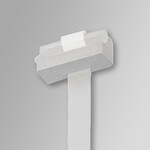 Hangers, Tape, Original Gallery System, 10-pack
Clear tape hangers for Original Gallery System, pack of 10 with ample supply of clear polypropylene tape that can be cut to desired length. Assembled capsule-style hangers insert into either end of wall-mounted Original Gallery System track, and are easily adjusted from side to side. Tape is barely visible, especially against light-colored walls. Use with Original Gallery System Classic Hooks — not compatible with Pushbutton or Security hooks.
Hooks
Hooks are sold in packs of 10. Typical installations require one pack per 20-30 feet of hanging area, or more if hanging multiple works on single hangers (i.e., in vertical columns).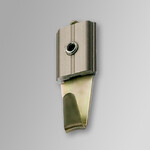 Hooks, Classic, Original Gallery System (cable or tape), 10-pack
Classic Hooks, pack of 10, for use with Original Gallery System Steel Cable and Clear Tape art hanging systems, and with our systems for picture moldings. An economical choice that offers robust performance and easy adjustment using the simple wrench provided. Capacity of 44 pounds per hook on Steel Cable systems, 33 pounds on Clear Tape.
Accessories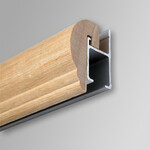 Wood Molding, Original Gallery System, 6.5 foot
Wood molding cover for Original Gallery System wall track, 6.5 foot (2 meter) lengths. Fits directly over installed wall track, covering it completely for a more traditional look. Can be stained or painted and cut to any length. Note: wood molding cannot be used with the lighting option.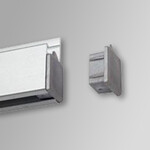 End Cap, Original Gallery System, Anodized
Single Original Gallery System end cap in silver color to match paintable anodized aluminum wall track (also available in white). Caps mount easily without tools and provide a clean, finished look at track ends.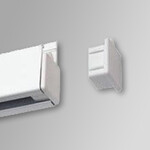 End Cap, Original Gallery System, White