Low-Cost Facility Hanging Systems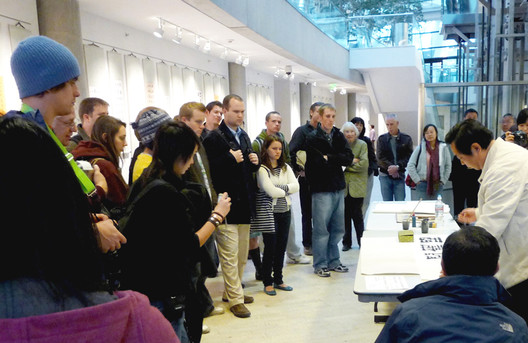 Office and facility designers can save money, boost satisfaction with economical Art Hanging Systems
Virginia firefighters make the industrial plastic walls of a new station feel like home with rotating monthly displays of vintage photos from their department archives.
In Chicago, a busy county office hosts frequent exhibitions by city artists – drawing raves from visitors and employees and building bonds with community organizations.
At an Alabama hospital, a high-traffic corridor is used for monthly art exhibitions, generating "many compliments" from patients and visitors, and helping build the hospital's own art collection.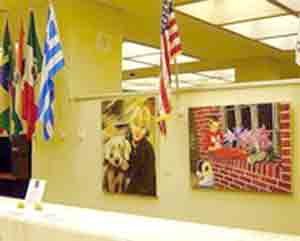 These programs, and dozens like them across the country, are making brighter, more interesting, more welcoming places for visitors and employees – at virtually no ongoing cost.
The common thread: use of Gallery System art hanging systems. They enable virtually anyone to hang exhibits in an attractive, professional manner without the use of tools and with no damage to walls, so no custodial or maintenance assistance is needed. Users of the picture hanging systems report that it pays for itself after just a few exhibition changes.
Arlington County, Virginia, has over 1000 lineal feet of Gallery System equipment in place in business offices, conference rooms, fire stations, and other buildings. Michelle Congdon, interior design supervisor for the county, explains, "It didn't cost much to install – a four-hour job installation ran about $250, and we've definitely saved money as a result. We would certainly buy more."
"Everybody in the offices likes it," notes Congdon. "The firefighters like it the best, because they can change the displays themselves every few months, and we never have to repaint or patch holes." In the past, $50/hour repainting fees were common.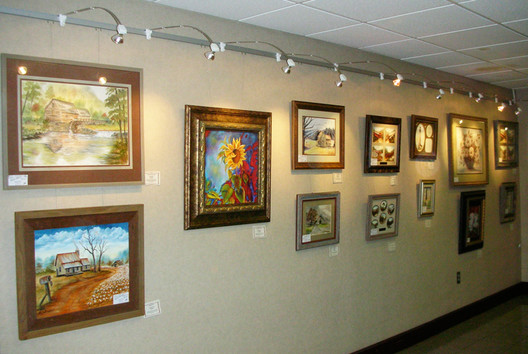 Becki Anderson, who is a volunteer coordinator at the Brookwood Medical Center in Birmingham, Ala., reports, "We paid about $1700 total for a contractor to install the picture hanging system as well as the lighting option, but since then there's really been no maintenance cost. We have a new artist come in every month and my assistant and I do all the set-up work. Previously, we hung the paintings using nails, which required three or four hours of maintenance time for repainting every few months."
Artists showing at the hospital like the visibility, and the ability to sell their work. In return, the hospital requests a donation of one piece that becomes part of a permanent art collection, and can be used for decoration elsewhere in the building. "We get so many compliments on the program – it's been a huge hit," says Anderson.
At the Cook County Treasurer's office in Chicago, art exhibitions in areas where taxpayers pay bills or have meetings have long been an important and effective outreach program, says Hazel Barr, a corporate relations executive for the county. "It's a way of building better relations with the community. We have a party for the artists and the communities they're part of, and people really look forward to it. We couldn't do without it."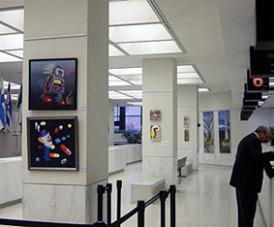 Prior to installing Gallery System equipment, new exhibitions at the Treasurer's Office required patching of walls and repainting – typically a three-day process, or more if maintenance teams were busy. "A couple of years ago I saw the Gallery System in use at the University Club of Chicago, and said, 'aha!'" recalls Barr. "We ordered a huge amount of hardware, and the carpenter was here for a total of about 12 hours installing it in a large space. Now there is no need for any repairs, or for a custodian to come in for hanging -- the artists can do it themselves, and they love it because they can rearrange and make small adjustments very easily. It's been very inexpensive over the long run, and visitors comment on the art all the time."
In an era when so much business is done on the Internet and over the phone, in-person visits are a special event. Art displays are an excellent way to make customers, suppliers, and partners feel welcome in a smart, thoughtful environment. And the ability to change displays frequently gives employees ongoing visual refreshment at work.