Gallery System Lighting - Standard & Custom Options
Image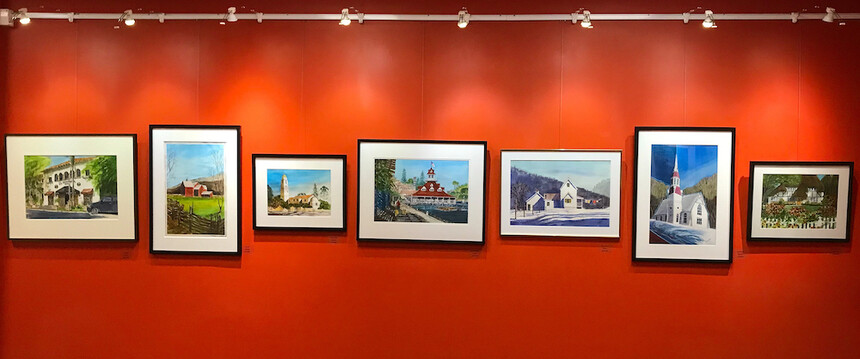 Gallery System Art Lighting:
Chosen by Galleries and Art Display Professionals Worldwide
Gallery System's unique integrated art lighting option makes exhibition-quality illumination easy and economical — use it along with your Original Gallery System's art hanging capabilities, or install on its own to provide easily adjustable art lighting across any wall. Our track-and-wand system offers a flexible, safe, and professional way to illuminate art displays of any size:  
Sleek light wands move easily when your needs change — the wands can be positioned along the track independently of hangers and aimed to illuminate artworks at different heights.

Light wands lock onto Original Gallery System track (they are not compatible with the GalleryOne system) at any point; a hidden flat power cable carries low-voltage current along the track.

LED lamps offer long life, low electricity costs, and art-appropriate illumination

Low voltage (12 volt) current is completely safe to handle

Most light components are covered by a 5-year limited warranty, except for light bulbs and Power Pack power supplies which are covered by a 2-year limited warranty

Find more-detailed information in our Lighting FAQ 
Scroll down to view pre-configured lighting kits. Or, view custom lighting solutions.
For Basic Setups, Start With Our Handy Power Pack; 
for Larger Installations, We'll Customize a System for You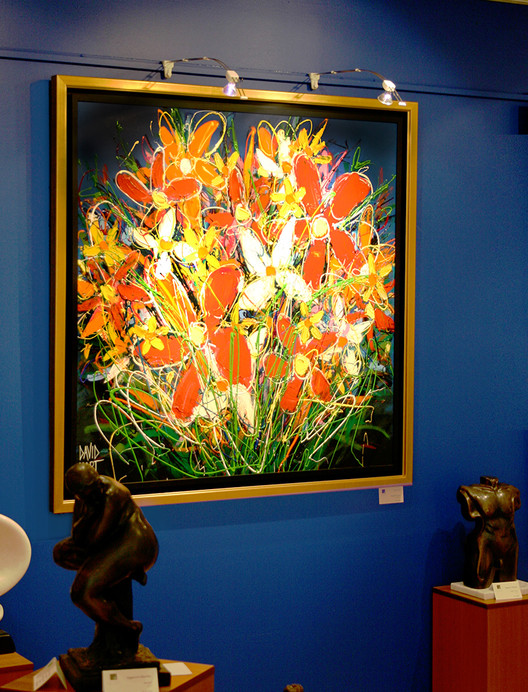 Components for Basic Setups:
Order Your Power Pack and Wands Now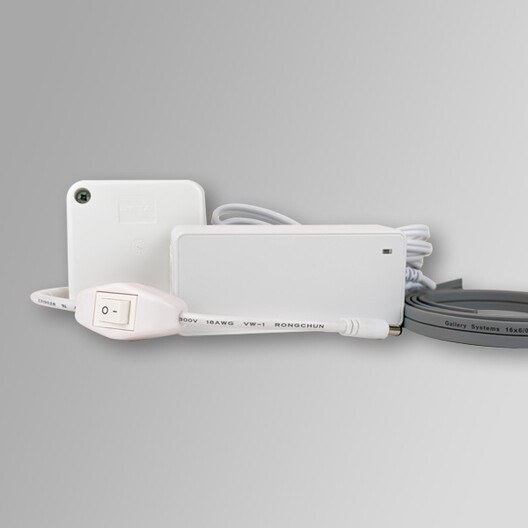 Lighting Power Pack
The Gallery System Lighting Power Pack includes a UL-listed 60-watt power supply (dimensions 4-5/8 x 2 x 1-1/4 in; 118 x 51 x 32 mm), on-off switch, wall-mounted junction box, and all cabling needed for lighting installations with up to five light wands (wands sold separately).
Use the Power Pack for installations covering up to 25 feet (7.6 meters) of Original Gallery System wall track — note that it is NOT compatible with our GalleryOne system. For full details, please review the Lighting section of our FAQ or preview the simple handyperson-style installation instructions.
Price: $198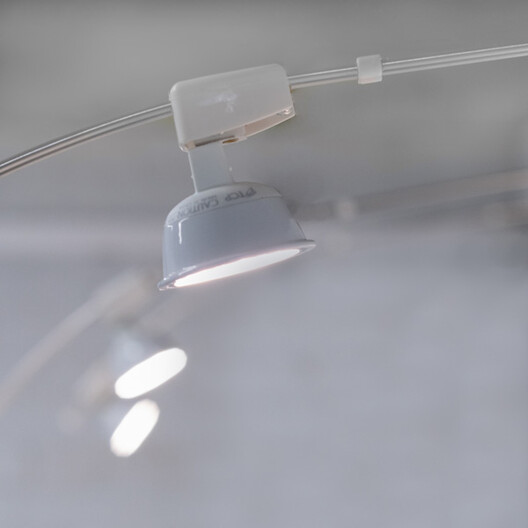 Light Wands with LED Bulbs
Sleek, stylish, and easy to install, our light wands lock onto the Original Gallery System track at any point, and can be moved or adjusted as needed. They draw safe 12-volt power from a hidden cable via contact probes on the wand base.
Wands include specially selected cool-running LED bulbs that provide art-safe exhibition-quality illumination. Their color rendering index (CRI) is 90 and color temperature is 3000K; this means they deliver neutral light that will not alter the colors of your artworks.
Price: $69 each
Up to 5 wands can be used with each Power Pack
Power Pack + 4 Light Wands Bundle
Special Offer: Just $489 for an Original Gallery System Lighting Kit — Ground Shipping Included
Get four sleek Light Wands, each equipped with a specially selected art-safe LED bulb, plus a Power Pack with UL-listed 60-watt power supply and all necessary cabling, for the bundle price of $489, including ground shipping in the Continental US!
This lighting package can be easily installed on almost any Original Gallery System art hanging installation (not compatible with our GalleryOne system). Or, add one or more lengths of Original Gallery System wall track (sold separately) to create a sleek, flexible wall-mounted art lighting system for any display space. Act now, and start seeing your displays in a better light!
Price: $489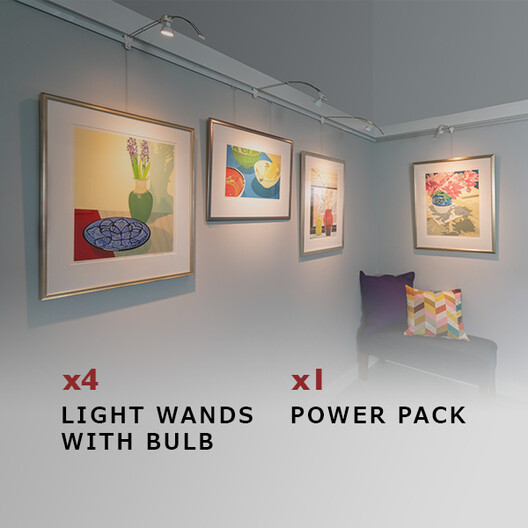 Original Gallery System Steel Cable Kit With Lighting
Our most complete art hanging and lighting solution is just $749, and includes:
19.5 feet of wall track (three 6.5-foot sections, anodized aluminum or white enamel finish)
4 Light Wands with LED bulbs
1 Power Pack with all cabling and UL-listed 60-watt power supply
10 hanger assemblies (each with 6.5 feet of stainless steel cable)
10 deluxe pushbutton hooks for instant tool-free adjustment
Two matching end caps
FREE Shipping (to continental US addresses only)