Image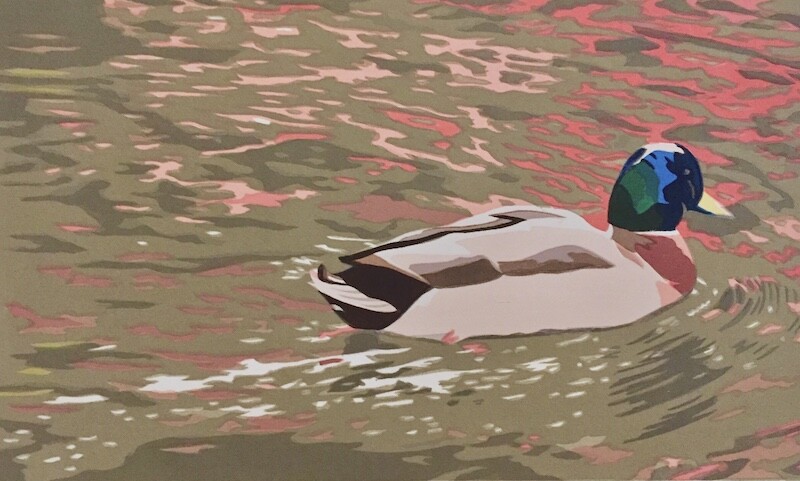 A number of photos on the recently updated Gallery System website feature distinctive limited-edition prints of still lifes, flowers, landscapes, and other scenes. They're the work of artist Anne Silber, and if some of the images seem familiar it's because Silber's prints are widely displayed in museums and other settings, and have appeared in more than 200 feature films and television shows, including Grey's Anatomy, The Americans, The Departed, and the newly released Tick, Tick…Boom!
"Many people have seen my work without knowing it," says Silber, who has lived and worked in the Boston area for many years. And we're proud that she's also a longtime member of Gallery System's sales and support team, where her skills and hands-on experience have helped countless customers improve their art displays.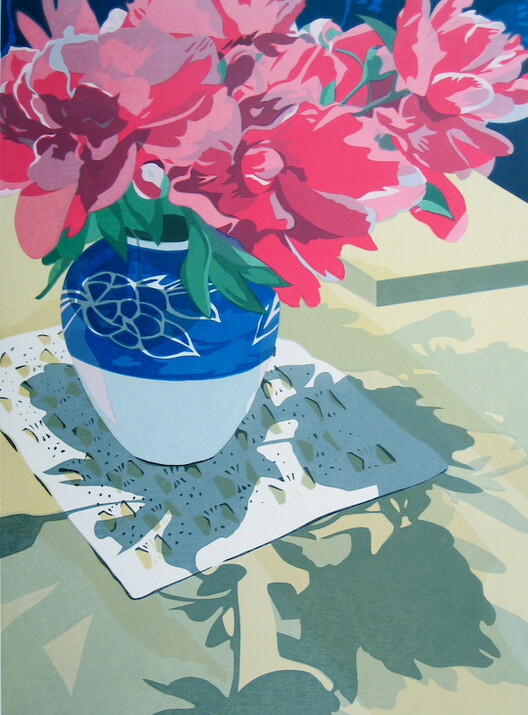 Silber's prints are serigraphs, "which is another word for fine art silkscreen prints," she explains. "They're all hand-printed by me. I start with a master pencil sketch, and then cut a stencil for each color that will appear in the print; there are usually 12-15 or more for each print, which get laid down sequentially. I'll average about 50 impressions in each edition."
By the late 1980s, Silber's works had already started to win spots in venues like New York's Brooklyn Museum, Atlanta's High Museum of Art, the Boston Public Library, and corporate art collections (the Federal Reserve Bank of Boston, Citibank, Pfizer, Fidelity Investments, etc.), when a chance meeting opened a new door.
"I was visiting my brother who lived in Los Angeles at the time. At his birthday party I met David Clennon, who was in the cast of Thirtysomething, and he invited me to visit the show's set," recalls Silber. "I was talking with the set decorator, and at some point a light bulb went on over my head and I asked, 'do you buy art?'"
The answer was yes, and Silber began making regular trips to LA with portfolios of prints. She established herself as a dependable and collaborative supplier to the Hollywood design teams charged with creating visual environments that reflect the characters and stories being told.
Her work has been purchased by many real-life healthcare facilities, including Massachusetts General Hospital and the Dana Farber Cancer Institute, so it's no surprise that it would also fit in fictional medical settings. In addition to Grey's Anatomy and its successor Private Practice, it's seen in House, ER, and Chicago Hope. "Grey's Anatomy has the largest collection of my work other than me — over 60 pieces," notes Silber.
Much of Silber's work combines a vivid intensity of line and color with an overall sense of crisp focus and underlying serenity. "I've always been drawn to color, and color relationships, and especially in my still lifes to light and shadow and reflection," she says. "They've sometimes been likened to Japanese woodcuts, but that's not conscious.
"I like using a transparent base in my inks and thinning them down; overlaying those transparent layers creates new tones. A lot of people think they're watercolors, but the serigraph process is really more controlled than watercolor – you get hard-edged areas of color."
And when it comes to displaying work, Silber is a fan of Gallery System picture hanging systems. "I find the system makes hanging a show much easier," she notes. "Years ago, I used one for the first time at a corporate show in Boston, and I was surprised at how it made it so much simpler to arrange and adjust everything. Especially with the pushbutton hooks; they're really good because you can often leave the work on the hook while you make adjustments, which is very convenient."
We are grateful to have the opportunity to show Silber's work, and encourage you to visit her website where you can see and purchase more of her prints — including ones that may be part of some of your favorite movies and TV shows.