Petroglyph Artist Designs Exhibits to Invite and Reward Attention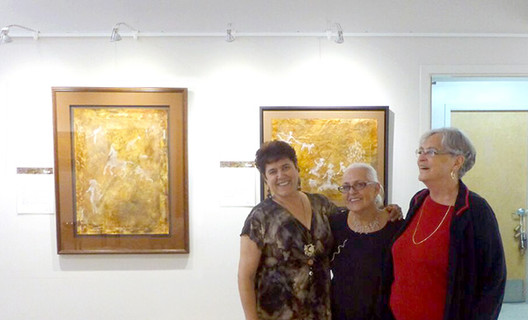 As an artist, Teyjah McAren is fascinated by petroglyphs, ancient images carved into cave walls and cliffs that have endured for thousands of years.
As an art gallery owner/operator, McAren strives to design displays that draw the eye, and then invite and reward continued attention to the works on display, including her own.
Her newest gallery venture, Teyjah's Art Den, is based in Salmon Arm, British Columbia, a lakeside town about midway between Vancouver and Calgary. "My former gallery had no windows, was small and had poor lighting; the new space is larger and allows me to space the displays out more, and it looks really good," she explains.Many of the lighting duties are handled by the Gallery System Lighting Option, which McAren installed along with over 160 feet of the Original Gallery System art hanging system.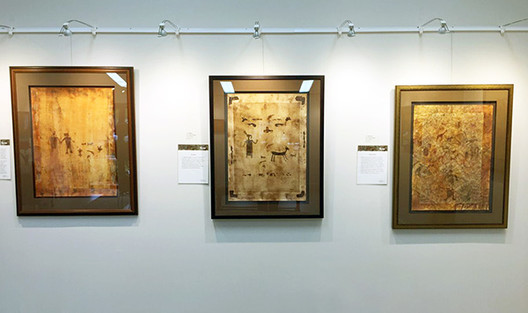 Because her works evoke ancient sites with deep, warm earthy colors and timeless imagery, McAren wanted "an overall glow around the paintings, and not hot spots of light. I get that by spacing the light wands equidistantly across the display area and making small adjustments depending on where paintings are placed; it helps create more of a radius than a spot. The whole hanging system works really well. People really like how easy it is to work with when setting up a display."
The process of creating high-quality art displays is very important to McAren as a professional artist as well as a gallery owner. "I take pride in what I do, and want to convey a sense of professionalism about it," she says. "Being organized and caring about how things look helps people really think about your art and appreciate it."
Here are some of McAren's suggestions for setting up displays that attract and hold viewer interest:
Think in groups. Place works alongside ones that have some sort of commonality – style, color palette, subject matter, etc. "If you have a theme, and not just 10 different paintings of 10 different things, it makes for a beautiful and united look," explains McArten. "It's a bit easier in my case, because my paintings are all about petroglyphs and trying to recreate the look and feel of a cave wall or cliff side. But I'll still create groupings of, say, ones that are in earth tones or that have a yellow-orange or rust-colored palette – it can look really good to put three pieces together on a larger wall, like a triptych."
 
Don't overload the walls. McAren notes that when works are packed too densely, "you can't really see them, you can't sit and appreciate what's going on.
 
Share stories. McAren travels to petroglyph sites around the world to observe and photograph images, and her displays include background information about how she came to create each work. "I try to introduce myself, how I do my work, where I was," she says. "People like to hear the story. They might not even like the painting, but they like the story behind it."
 
Be ready to drape. McAren recommends having a couple of big sheets of cloth in neutral colors that can be used to hide an imperfect wall, or cover the metal grid panels often used for hanging at art fairs. "Draping the grid and covering those big black or white squares helps the paintings look really good and professional," she points out.
Want to have your gallery featured in the Gallery System Gallery Spotlight? Send us an email with some background information!