Drawing on more than 20 years of experience supplying gallery hanging systems to art galleries, museums, offices, and homes worldwide, Gallery System created GalleryOne – with a lower profile and easier installation than any picture rail hanging system we've ever produced, affordable pricing, and the same gallery quality and easy art display setup and adjustment found in all our products.
GalleryOne has three simple parts: a wall-mounted track, sliding hangers, and adjustable hooks. Our unique self-aligning wall anchors make track installation simple and quick, and the sleek tracks and hangers are suitable for any art gallery or display space.
GalleryOne options include:
Tracks: choice of white or paintable aluminum

Hangers: Stainless-steel cable or clear plastic tape

Hooks: Classic or (with cable systems only) Push-Button
Start your selection process by choosing either stainless-steel cable or clear plastic tape, farther down this page.
If you would like a free sample of GalleryOne, or have any questions, please call us at 1-800-460-8703 - we LIKE talking to our customers! Or, use our simple Contact Form.
Special Value: A Full GalleryOne Gallery Hanging System, Just $219, Shipped!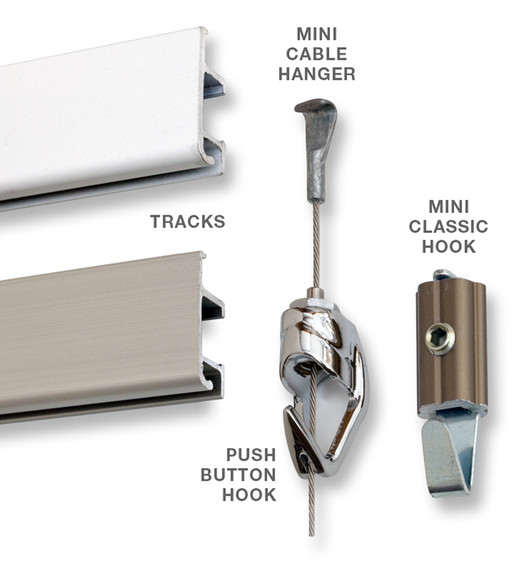 The GalleryOne stainless cable art hanging system has just three main components: a wall-mounted track in your choice of white or anodized aluminum, slender stainless cable hangers that can be inserted and positioned anywhere along the track, and sturdy hooks (including our tool-free Push-Button Hook) that securely grip the cable and support your art display.
Unobtrusive, rugged, and quick and easy to use
The cables are slender— just 1.2mm — yet capable of supporting up to 30 pounds per cable hook or 60 pounds when used in pairs
Hooks slide easily up and down the cables for vertical adjustment
Push-Button Hooks offers instant tool-free adjustment; Classic Hooks lock with the simple wrench provided.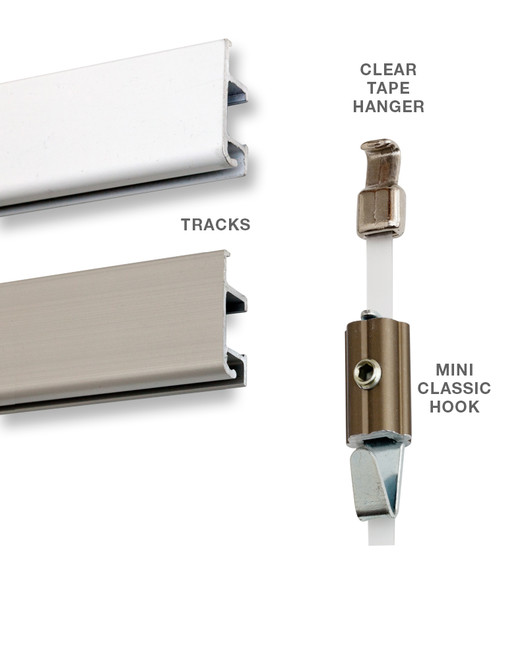 GalleryOne's clear-tape alternative for art display is barely visible against light-colored walls — it uses clear polypropylene tape hangers with our wall-mounted aluminum track (in white or paintable anodized aluminum) and GalleryOne Classic Hooks to create a gallery quality picture rail hanging system at an affordable price.
Unobtrusive and easy to use
Transparent tapes can support up to 15 pounds per tape hanger or 30 pounds when used in pairs
Classic Hooks slide easily up and down for vertical adjustment, and grip securely when tightened with a simple wrench (provided)
Easy to use — hooks won't twist away from you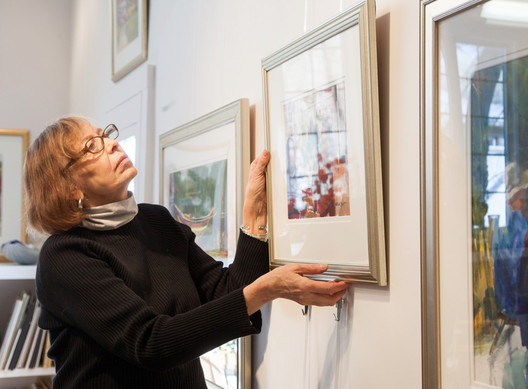 Some guidelines and help in selecting the right art gallery hanging system components for your space.